Peace as growth and prosperity accelerator on the island, DSASG Spehar speaks at Economist Summit
On 16 November 2021, SRSG/DSASG Elizabeth Spehar addressed the 17th Annual Cyprus Summit hosted by The Economist and entitled "Working towards a secure environment for sustainable recovery". In her keynote address, Ms. Spehar brought a "United Nations perspective on the Current Challenges and Opportunities in The Cyprus Issue."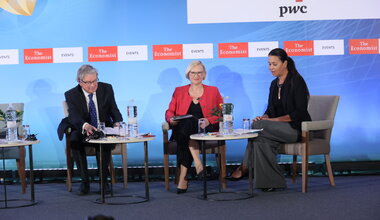 The SRSG/DSASG noted in her speech that it is clearer than ever that "the status quo is not static" and, with the continued "absence of substantive talks, there has been deepening mistrust between the parties."
She emphasized that the UN would continue to work with the parties to find a way back to the negotiating table. "Achieving peace is a shared task and a responsibility that needs to be fulfilled not just by the officials" engaged in a formal process but also by all local stakeholders, women, youth, business leaders and civil society at large. "Everyone has a part to play," she stressed.
Greek Cypriots and Turkish Cypriots share many basic concerns which, since the start of the pandemic, have further grown, particularly in the economic field and in terms of safety and health, related to COVID-19. The Technical Committees, which bring together Greek Cypriot and Turkish Cypriot experts under the auspices of the leaders, are vehicles which play an important role in this regard and demonstrate that the sides can still "agree on issues and make things happen."
Ms. Spehar highlighted that building a sustainable settlement in Cyprus would require more collaboration, cooperation and interaction between Turkish Cypriots and Greek Cypriots on the island, but also in the broader region, as was suggested in other Summit sessions as well.
The SRSG/DSASG's address also touched on the collaboration between the Good Offices mission in Cyprus with the World Bank, which collectively produced and disseminated a socio-economic impact assessment of a potential settlement deal, which outlined the clear case for a settlement to pave the way for greater stability and economic prosperity. It also speaks about the lost opportunities without a settlement. One prominent angle of the assessment makes the case for working, as of now, on both sides, to increase gender parity in the contributions to and the rewards of greater economic development. The whole island stands to gain if women participate in the labor force at the same rate as men.
 The report of the Gender sensitive Socio-economic Impact Assessment as well as the presentation delivered by the World Bank can be accessed through the following links: